Sharon House Publishing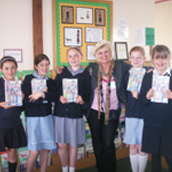 Sharon House Publishing Ltd is a publishing house based in Ossett, West Yorkshire. We offer a service to authors wishing to publish their books. We will endeavour to market, publicise and sell our clients' finished book. Here at Sharon House Publishing, we believe everyone has a story and we want to help him or her tell it.

Please note, we only do children's books.
Our first author, Anna McKann, led the way for us with her debut novel - CHAVOS THE KIDS OF DISTRITO FEDERAL. Her vision to write children's books about street kids in Mexico City, has meant that her novel has developed into a growing range of books. Her experiences come alive within the pages. Keep checking back to see her progress or take a look at her website, www.chavos.org.

Chavos, The Kids of Distrito Federal is a story about life on the streets. Fiction, based on fact, it is already getting excellent reviews. Set in Mexico City, it tells the story of Dolita, abandoned as a baby and how she survived to become one of the Street Kid Gang. Taken under the wing of an old beggar woman named Ma Kensie, Dolita's life has been anything but easy. At the age of five she joined a group of homeless kids, living behind the metro, hidden in a small makeshift shelter.

More about Chavos