Sharon House Publishing Illustrators
Sharon House Publishing has worked with several illustrators to date, all with very different styles.
Lisa Fox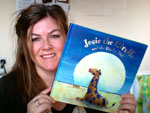 Lisa was born in Shropshire. She graduated from Glyndwr University in 2006 with a BA (Hons) degree in Illustration for Children's Publishing.

With an impressive list of clients, she has illustrated over 25 books worldwide, but is equally at home delivering workshops for schools and community art events and getting messy with the kids! She now lives in Conwy with her son.
Find out more at www.lisafox.co.uk
---
Karl Gibbons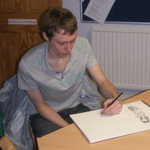 Karl gibbons studied at Wakefield College. He was initially with the company on work placement and was commissioned to do the illustrations for our range of dual language and children's story books.
---
Will Bird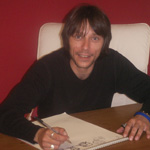 Will, known as 'Birdie' has done the illustrations for Anna's first two Chavos novels. He was born in Bradford and says 'I left school early because I've always known what I've wanted to do.' In 1989 he started training as an architect but after two years was headhunted for a graphic design company and has been painting ever since.